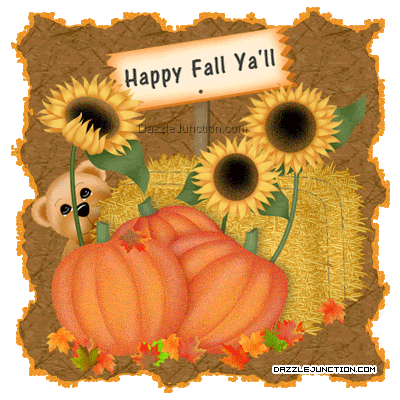 Fall is here, and there are so many things that I love about it!
So here are my ABC's of my favorite Fall things.
A - Acorns, apples, Autumn
B - Baking & Butternut squash
C - Cuddling & Colors, I love seeing the trees change, such a variety of color, it is so pretty!
D- Decorating, I think I have the most decorations for Fall, I love pumpkins & scarecrows
E -End f summer ( not one of my favorite things), but E is a challenge LOL
F- Fall Festivities! Pumpkin Patch, Apple Orchard, Hay Rides!
G- Gourds, fun to decorate with.
H -Halloween ,& Harvests
I - Indian Summer, I hope we get one this year
J -Jack -O-Lanterns
K-Kids playing in the leaves
L - Leafs
M -Mug full of hot spiced apple cider MMMM
N - Nutmeg, one of my favorite fall spices
O - October babies, My Brianna ♥
P- Pumpkins, I love pumpkin stuff, the smell, the color, picking one out!
Q - Snuggling under my big warm comfy quilt
R - Reading, perfect for those cool rain fall days, curled up with a good book
S- Squash MMMMM
T - T.V. All my shows come back on that I like to watch
U - Ummmm U is kinda hard lol How about Umbrella, for the rainy days
V - Vibrant colors
W - Wreathe - full of vibrant colored leaves, pine cones, and acorns
X- X is hard too so Im going to say X is 10 in roman numerals, and the 10th month is October....Its all I got
Y - Yard work, I love it actually!
Z - Zesty colors, smells, and flavors & Zuchinni!